The Freetown Quartet just released a live album from Christiania Jazz Club Børneteateret
20 / 10 / 2020
Only three years after releasing the warmly received studio album Země, Czech saxophonist and composer Luboš Soukup is back with a new release. This time, he recorded a live album with the Freetown Quartet at the unique jazz club Børneteateret that is located in the Christiania district in Copenhagen, Denmark.
The musicians behind the album
Luboš Soukup — Czech saxophonist, and one of the leading figures of the Freetown Quartet — has been regularly playing in the Christiania jazz club Børneteateret since he moved to Copenhagen in 2010. Nine years later, he came up with the idea of recording a live album there. He asked his friend and Czech music colleague, pianist Vojtěch Procházka, to visit him in Denmark and join his new band. Vojtěch didn't think twice and dived right into the project, coming up with many great ideas and daring improvisations.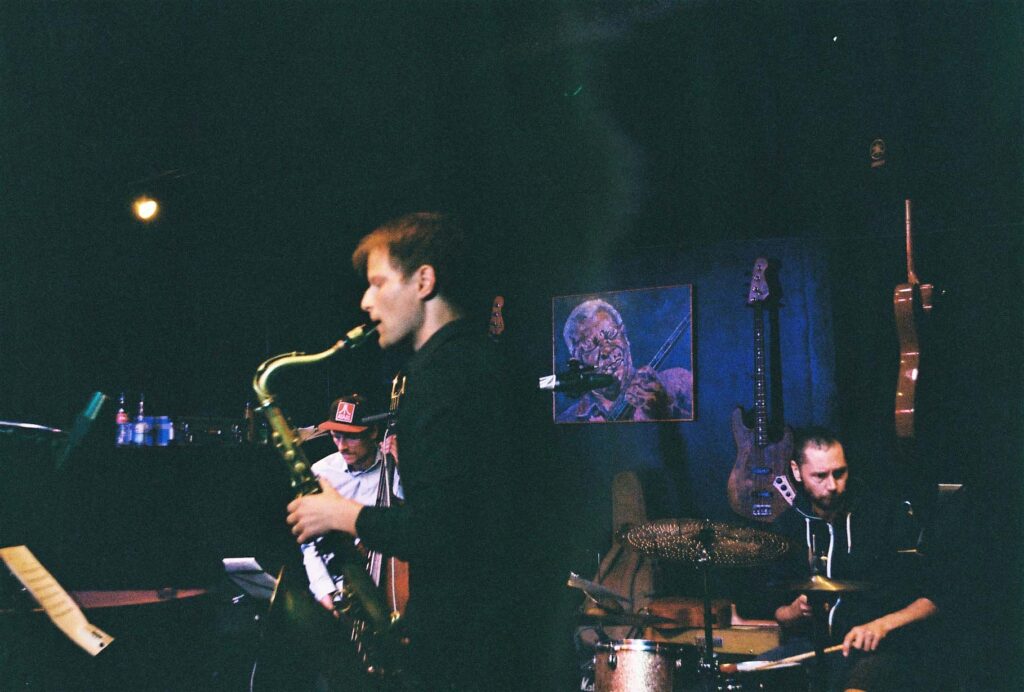 There is a perfect harmony between Vojtěch and the Danish rhythm section consisting of bassist Emil Brun Madsen and drummer Morten Hæsum. Luboš, Emil and Morten have been longtime musical partners, having played together in the MAdHAs quartet, the sound of which they describe as "freebop garage jazz". And it is indeed a legacy of MAdHAs, its sound and mood that continues here in the Freetown Quartet.
The band story
"We played live only once before the recording. It was during one of my tours in Prague in 2016. MAdHAs played a special concert one night and Vojtěch made a guest appearance there. The connection and the music understanding between him and the rest of the band was so magical, that I instantly knew that we should meet and play more. However, it took us three years to find the right moment and the right place", says Luboš about the project.
Then he adds: "We aimed for animalistic, natural music with a lot of improvisations. Something that is truthful with no adjustment afterwards. Of course we tried to polish the sound to make the listener the best audio experience possible, but music is almost untouched."
Shortly about the Christiania Jazz Club
The famous jazz club Børneteateret was established in 1999 and is located in the very center of the Freetown Christiania in Copenhagen, Denmark. The venue is run by volunteers who put their hearts into their work. They have created a friendly and homely atmosphere and present great jazz music every Wednesday and Friday. The club has a unique genius loci that inspires performers to open up and bring out their best. Many well-known jazz musicians — including Jerry Bergonzi, George Garzone, Kurt Rosenwinkel, and Lionel Loueke, to name just a few — have played and jammed in the club.
Downloads